Submitted by

pwjm6392@ncedcl...

on Wed, 02/05/2020 - 14:06
Changing Student Passwords
If a teacher needs to change a student's password, they will follow these steps: (1) Select Profiles, (2) Select My Students, and once they find the student whose password they wish to change, they need to (3) check the box in front of their name. Then the "Change Password" button will light up (no longer grayed out). Click on the (4) Change Password button and fill in the required information - see below.
NOTE: If your students are using Badges/QR Codes to login, then after changing their password you will need to print a new Badge by selecting My Students (QR Codes), then selecting the checkbox to the left of your student, and finally clicking on the QR Code button. You can then print the new badge(s) displayed.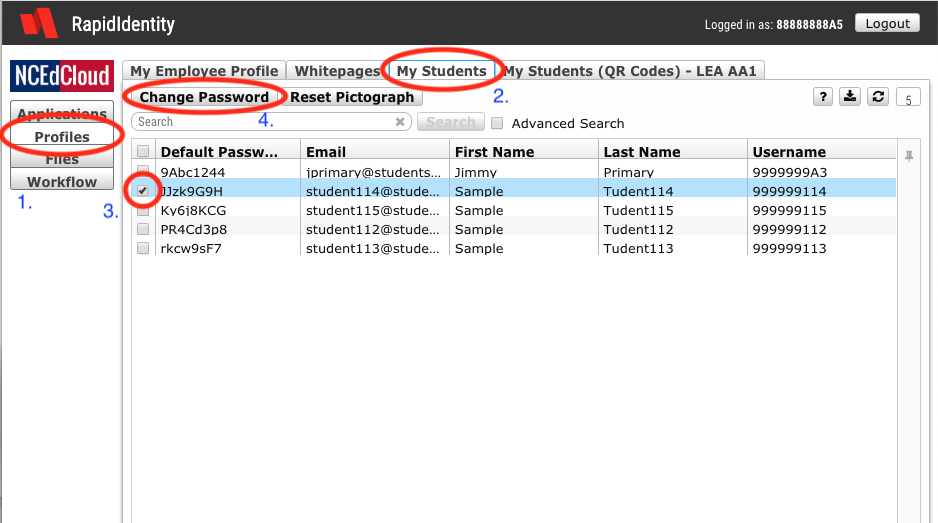 In the Change Password box you will enter the New Password and then in the box below it, Confirm the password. At this point you can either click Save (at red arrow below) and tell them the password to use going forward, or if you want to require that they change their password to something only they know, check the "User must change password at next login" checkbox. This will force them to enter a new password once they login.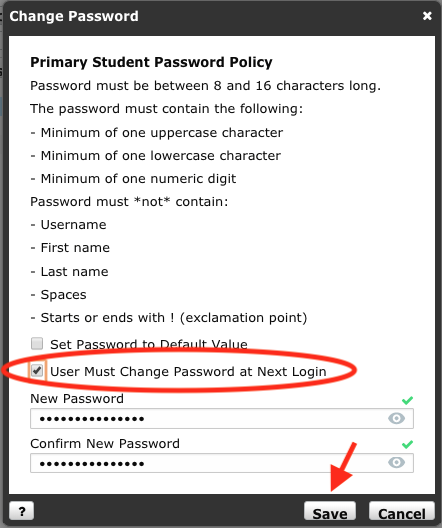 If you haven't already done so, click on Save button and note the "Confirm" window (click on OK).