Starting at 6:00 PM on Thursday, October 8th, 2020 the Login Screen for the NCEdCloud IAM Service will have a slightly different look. Based on requests from PSUs, a new "Forgot My Username" button just above the "Need Help?" button will be added (see the blue circled button in the diagram below). This is primarily for new users or those who use their NCEdCloud account infrequently and can't remember their Username.
When the "Forgot My Username" button is clicked, you will be prompted to enter your email address (see below). This must match your email address within the NCEdCloud IAM Service. After checking the "I'm not a robot" box, click on the "Next" button.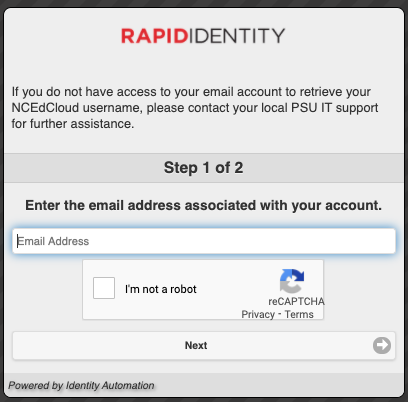 Once the system confirms an email match with your account in the NCEdCloud, your Username will be sent to your email, and a confirmation screen will be displayed, as shown below.
While this is only a minor change, we felt we should communicate it, just in case someone might have questions about why the login screen "looks different".
*Note: If you do not have access to your email to retrieve your NCEdCloud username, you will need to contact your local PSU IT Support for assistance.
Thank you!
The NCEdCloud IAM Service Team
Published Date:
Wednesday, October 7, 2020 - 15:30