On Sunday, July 1st, 2018, the NCEdCloud IAM Service will be upgraded between the hours of 1:00p.m. and 5:00p.m. ET, and the NCEdCloud IAM Service will be unavailable during this time. Most of the changes to the application due to this upgrade should not affect the user experience as most of the changes only affect backend processes. However, starting on Monday, July 2nd, 2018, one noticeable change will be to the login process.
Post upgrade, staff and student users will see only a username field on the first login screen of the NCEdCloud IAM Service, as shown below: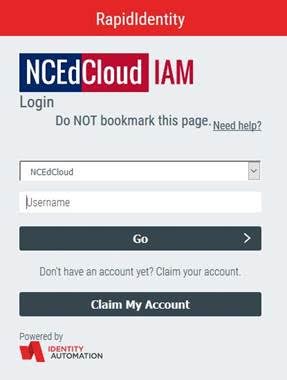 After users enter their username they will need to click the "Go" button below the username field to progress to the next screen. The user will then be taken to a second screen which will identify the user based on the username and ask for the user to enter their password, as displayed below: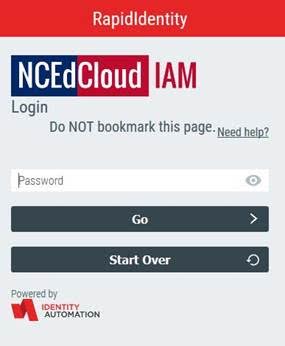 Users will then enter their password and click "Go" to complete the login process.
Note that users will continue to be able to use the same username and password to login to the NCEdCloud IAM Service that they used prior to the upgrade. This change only affects the steps to login. Thank you for your patience.
Published Date:
Friday, June 15, 2018 - 13:30