This page provides additional information for teachers after they have their accounts (see Claim My Account if you haven't already done so). It shows you how to view and issue your students' login credentials (username and password) and how to set or change your students' passwords to the NCEdCloud.
If students are logging into NCEdCloud for the first time (e.g. a new rising class, new student, or students who may have used Badges in previous years), many LEAs feel it would be more appropriate for teachers to provide the username and password to their students. This is described in Issuing Student Accounts below. If your LEA or Charter School has opted into using NCEdcloud Badges for students (grades K-5 are eligible, however not all LEAs use badges for all of these grades), these students will not use their student numbers or passwords to login. You can find information on reissuing and printing student Badges on the NCEdCloud Badges and Logins for K-5 Students page.
LEAs and Charter Schools have the option to let their older students (grades 6-12) go through the claim account process described in Student Account Claiming.
Viewing and Issuing Your Students' Account Information
If teachers will be issuing accounts to their students (username and password) they will do this by going to my.ncedcloud.org and logging in to the IAM Service on the Rapid Identity Portal. There is a great 3-1/2 minute video which walks you through the entire process under the Training Icon on the Application Access page.

Click on Training and "End User Training", and look for the video "What can I do as a Teacher within the NCEdCloud". It walks you through how to view your students and print out a copy of their logon information.
To actually perform this function, click on "Profiles" - A and then "My Students" - B, and follow the process described in the video. Note that for students in grades 6 and higher, they'll be prompted to answer at least 5 challenge questions (students in grades 5 and lower do not have challenge questions), the first time they login.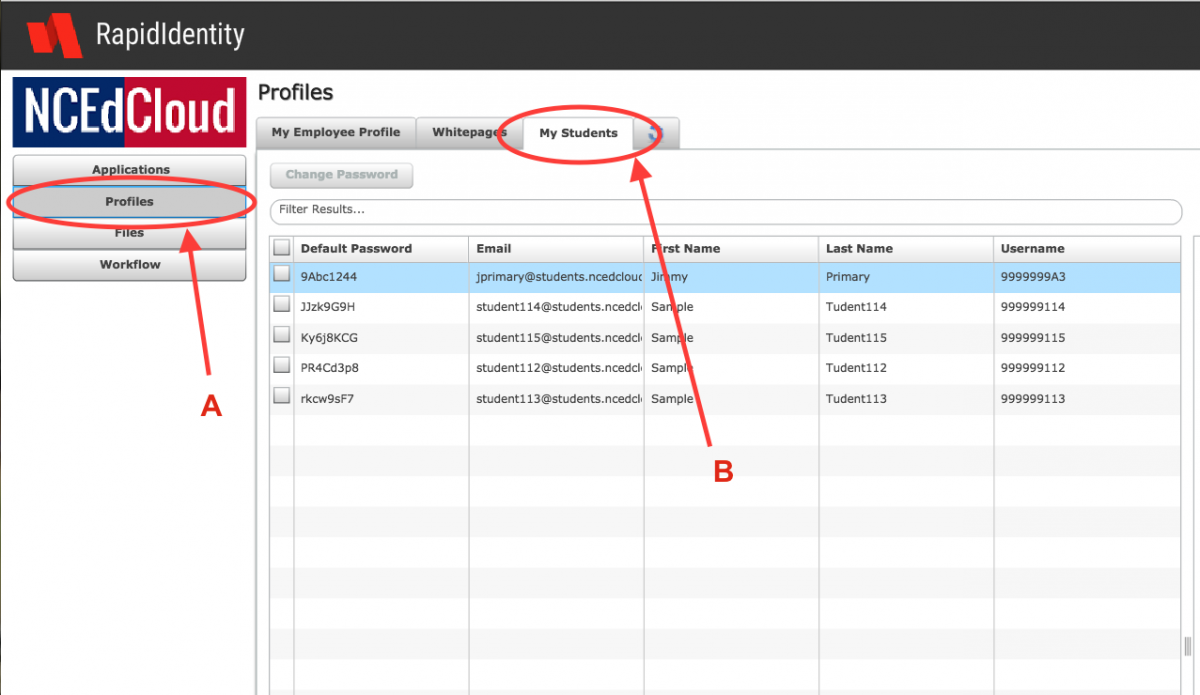 Changing Student Passwords
If a teacher needs to change a student's password, they will follow the same steps as above (1.) Profiles, (2.) My Students, and once they find the student whose password they wish to change, they need to (3.) check the box in front of their name. Then the "Change Password" button will light up (no longer grayed out). Click on the (4.) Change Password button and fill in the required information - see below.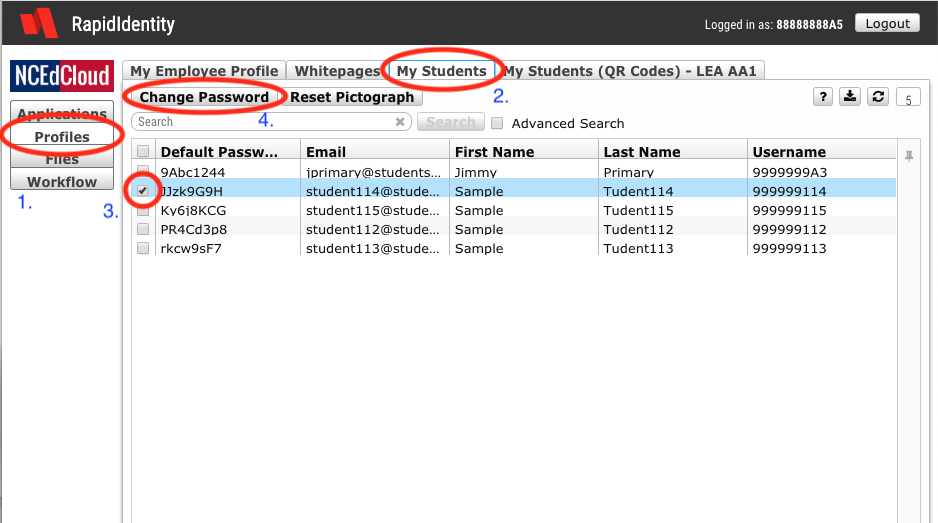 In the Change Password box you will enter the New Password and then in the box below it, Confirm the password. At this point you can either click Save (at red arrow below) and tell them the password to use going forward, or if you want to require that they change their password to something only they know, check the "User must change password at next login" checkbox. This will force them to enter a new password once they login. Then click on Save and note the "Confirm" window (click on OK).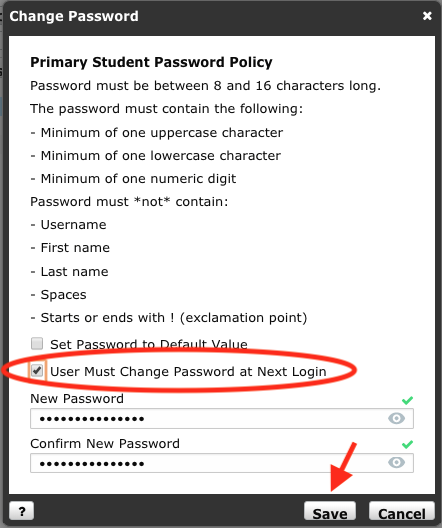 And finally click on the Save button.