How to Claim My Account (for all Employees)*
* Employees and optionally Students in grades 6-12 can claim their NCEdCloud IAM Service accounts. Students in Grades K-5 do not have the ability to "claim" their accounts. Teachers (through their "My Students" tab) and employees with a priviledged role (LEA Administrator, LEA Data Auditor, LEA Help Desk or LEA Student Help Desk), can provide younger students with their Username (Student Number) and default password. Information on how Teachers can provide account information to their students is presented on the Teachers page of this website.
This page provides links and resources to help users Claim their NCEdCloud IAM Service Accounts (NCEdCloud Accounts) to use when accessing Home Base applications or any other applications or resources their LEA or Charter School has had integrated. In particular, LEA and Charter School Tech Directors and Data Managers should familiarize themselves with the Claim Account Process so that you can assist your users if they encounter problems.

Once an LEA or Charter School has a plan in place to have their users Claim their NCEdCloud Accounts, they can be directed to this page for more information. After going to my.ncedcloud.org, the user will click on the Claim My Account button at the bottom of the login screen.
Users will then see the Claim Policy form with the default setting of LEA Employee Claim Policy. (If a student in grades 6-12 has been instructed to claim their account through this process, they will need to select the Student Claim Form). After selecting "Next", the Claim Account process involves three (3) more screens: The Employee Claim Form (or Student Claim Form) - where you enter some information about yourself; the Set Password screen; and the Challenge-Response Security Questions screen where you answer 5 or more of the questions presented. Before claiming your account you can watch the Employee Claim My Account Video which walks you through the process. The (optional) grade 6-12 student account claiming process is described in the Student Claim My Account Video .
Note: When entering your birthdate, the format is YYYYMMDD with no dashes or slashes. Also, you will need your 3-digit LEA Code and Staff UID#. Check the "I'm not a robot" at the bottom of the screen and then the "Next" button.
NOTE: If at any time the "Next" button doesn't work (remains "grayed out") then the information you entered is either in the wrong format (such birthdate) or may be incorrect in the source system (See Account Claiming Issues for help).

Click the Claim My Account button if you're all ready to go!

What Can I Do?

Once you have your IAM Service account, you can login to your NCEdCloud Account by going to my.ncedcloud.org (please see the FAQs on "How Do I Login to the IAM Service" and "How Do I Bookmark the IAM Service".). When you login, you will be at the "Applications" tab and will be presented with icons of the Home Base applications your LEA or Charter School is using, and any opt-in applications or resources your LEA or Charter School has integrated with the IAM Service. You will also have access to End User Training videos through the RapidIdentity Training Icon.
You will also be able to see your profile information (under "Profiles / My Employee Profile") as well as have the ability to change or reset your password and Challenge-Response security questions.
LEA Privileged Roles
If you are entitled to one of the Priviledged Roles for your LEA/Charter School, you can request it under the Workflow page. [After logging into the IAM Service: 1.Workflow button - left side; 2.Requests - top tab; 3.select desired role's checkbox, (e.g. LEA Help Desk); 4.Submit Requests. You will be asked to enter your LEA code as part of the dialog process]. Any requested roles will need to be approved by your district's/school's NCEdCloud LEA Administrator.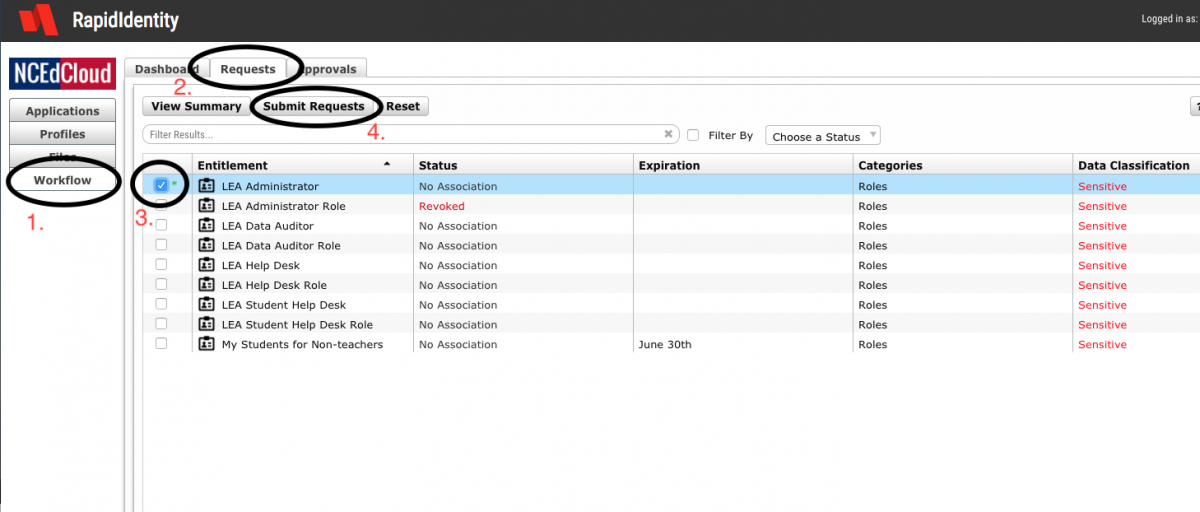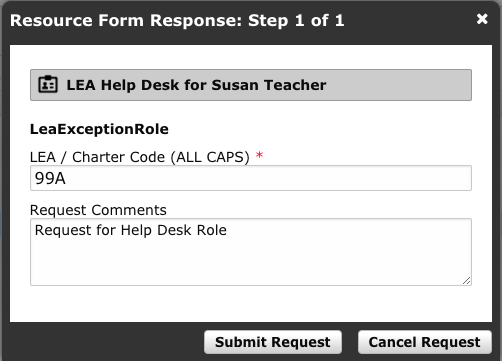 The first request for an LEA Administrator role in a district/school will be vetted by NCEdCloud support staff, prior to granting the role. (This is not common other than for new Charter Schools.) Once granted, this role will allow the new LEA Administrator to approve future workflow requests for their LEA/CS, as well as provide access to administrative functions for their district's employees and students. It will also grant them the privilege to access the LEA Administrator web pages where more protected content is available.
Additional roles that can be granted to employees include the LEA Data Auditor Role, LEA Help Desk, and LEA Student Help Desk roles. The former is for Data Coordinators/Managers and allows them to view user profiles and access data files for all students and employees in their LEA or Charter School. The Help Desk role allows a user to lookup an employee or student and reset their password. The LEA Student Help Desk role is the same as the LEA Help Desk role, but only allows access to student profiles.
Approving Role Requests from Other Users
After being granted the LEA Administrator Role for their LEA or Charter School, the Technology/School Leadership will need to identify who else in their district or school needs the provileged roles mentioned above and have them submit workflow requests. Once there is at least one LEA Administrator in a LEA/CS, furture requests will be sent to that/those LEA Administrator(s) for approval and can be seen under the "Approvals" tab in the Workflow View. Note that the LEA Administrator Role has ALL privileges and a user with this role does not need any other role. If a Data Manager needs to reset passwords for other employees (possibly in a small LEA or Charter School), they may additionally request the LEA Help Desk Role which gives them that ability.