NEW Users: How to Claim My Account
New employees, and optionally new students in grades 6-12, can claim their NCEdCloud IAM Service accounts. Students in Grades K-5 do not have the ability to "claim" their accounts. Teachers (through their "My Students" view) and employees with a privileged role, can provide younger students with their Username (Student Number) and default password shown in their profile; or set the password to something easier to remember. Additionally, LEAs can choose to use an alternate form of authentication for students in grades PK-5 such as NCEdCloud "Badges" and Logins for PK-5 Students. Information on how Teachers can provide account information to their students is presented on the Teachers page of this website.
The Claim Process...
This page provides links and resources to help new users Claim their NCEdCloud IAM Service accounts (NCEdCloud accounts) to use when accessing Home Base applications or any other applications or resources their PSU has had integrated. In particular, users with privileged roles, should familiarize themselves with the Claim Account Process so you can assist your users if they encounter any difficulties.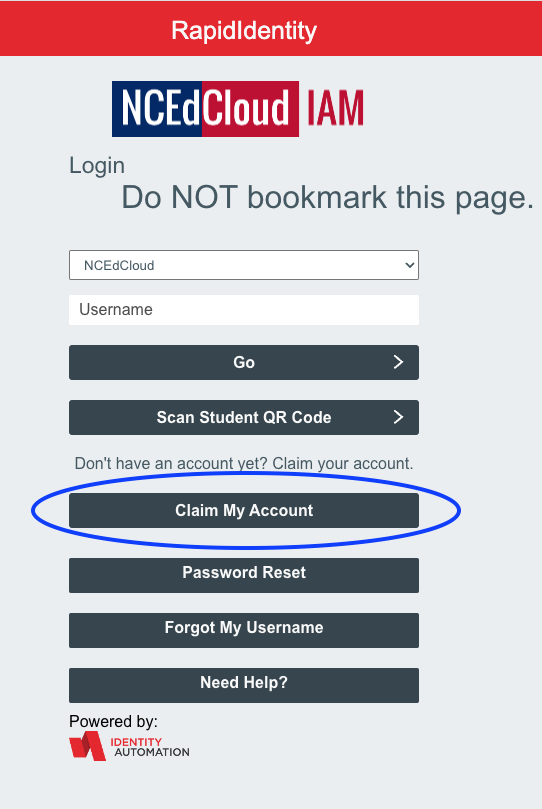 As new employees and students enter your district or charter school each school year, they can be directed to this page for more information. After going to my.ncedcloud.org, the user will click on the Claim My Account button in the middle of the login screen.
Users will then see the Claim Policy form with the default setting of LEA Employee Claim Policy. (If a student in grades 6-12 has been instructed to claim their account through this process, they will need to select the Student Claim Form). After selecting "Next", the Claim Account process involves three (3) more screens: The Employee Claim Form (or Student Claim Form) - where you enter information about yourself; the Set Password screen; and the Challenge-Response Security Questions screen where you answer 5 or more of the questions presented. Before claiming your account you can watch the Employee Claim My Account Video which walks you through the process. The (optional) grade 6-12 student account claiming process is described in the Student Claim My Account Video.
Note: When entering your birthdate, the format is YYYYMMDD with no dashes or slashes. Also, you will need the 3-digit LEA Code for your PSU and Staff UID#. Check the "I'm not a robot" box at the bottom of the screen and then the "Next" button.
If at any time the "Next" button doesn't work (remains "grayed out") then the information you entered is either in the wrong format (such birthdate) or may be incorrect in the source system (See Account Claiming Issues for help).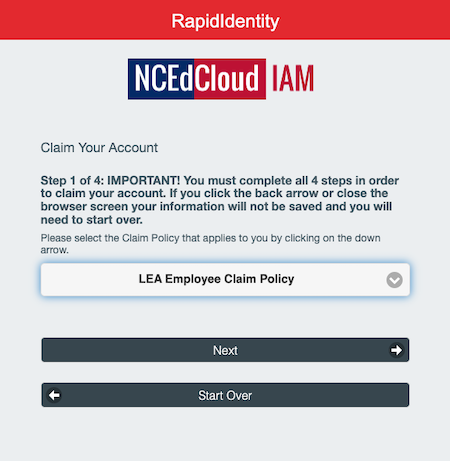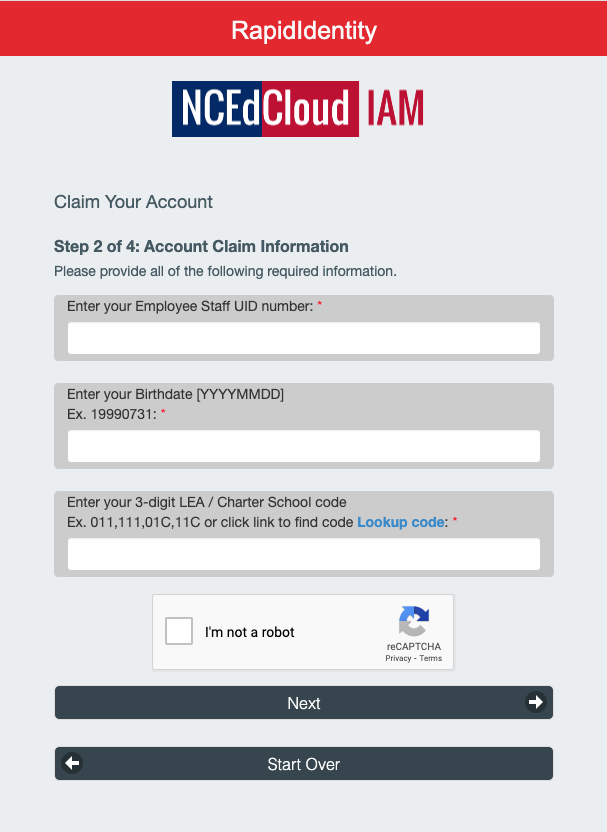 Note: Users who will require one of the privileged roles in NCEdCloud (LEA Administrators, LEA Data Auditors, LEA Help Desk, LEA Student Help Desk, School Help Desk, or School Student Help Desk), will be required to setup Multi-Factor Authentication (MFA) once the role is approved. Information on requesting privileged roles is on the Privileged Roles page, and information on setting up MFA for using a One Time Password to login is found on the MFA page.
NOW, if you're all ready to go, Click the Claim My Account button!