Requesting Privileged Roles
NOTE: All employees with a Privileged Role are required to use Multi-Factored Authentication (MFA).
If your position requires one of the Privileged Roles for your PSU, you can request it under Requests. After logging into the IAM Service: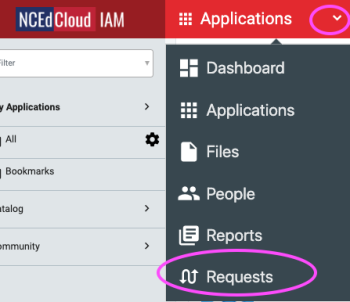 Click the dropdown arrow to the right of Applications
Select "Requests" 
In the Requests view, click on Entitlements/Catalog down the left side and
Select the role you're requesting (e.g. LEA Administrator, School Help Desk, etc.)
Then you can click on the "Request" button at the bottom of the screen (shows once you click on a role)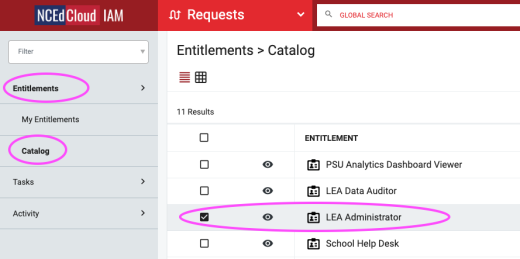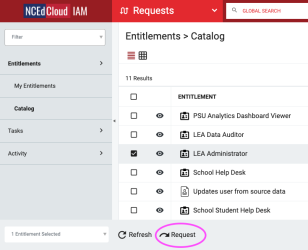 Once you click on the Request button, you will be asked to enter:
Your 3-digit LEA code (Charter School codes end with a Letter) for PSU-wide roles
Your 6-digit Campus Code for School-level roles (e.g. School Student Help Desk)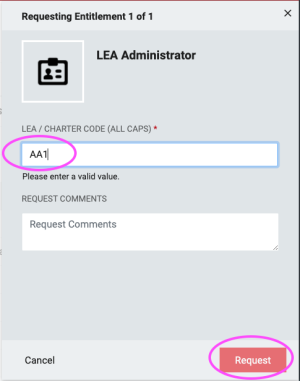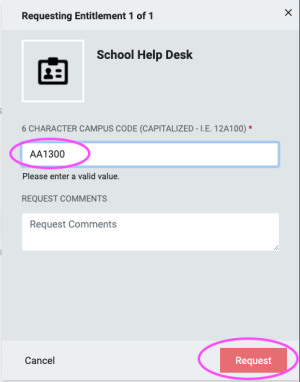 * Any requested roles will need to be approved by your district's/school's NCEdCloud LEA Administrator.